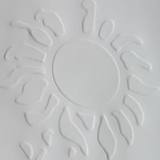 Embossing is the process of creating a three-dimensional image or design in paper and other materials.
Embossing is typically accomplished by applying heat and pressure with male and female dies, usually made of copper or brass, that fit together and squeeze the fibers of the substrate. The combination of pressure and heat raises the level of the image higher than the substrate, while "ironing" it to make it smooth. In printing this is accomplished on a letterpress. The most common machines are the Kluge Letterpress and the Heidelberg Letterpress.
Ad blocker interference detected!
Wikia is a free-to-use site that makes money from advertising. We have a modified experience for viewers using ad blockers

Wikia is not accessible if you've made further modifications. Remove the custom ad blocker rule(s) and the page will load as expected.