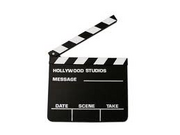 A film, also called a movie or motion picture, is a series of still or moving images. It is produced by recording photographic images with camers, or by creating images using animation techniques or visual effects. The process of filmmaking has developed into an art for and industry.
Film may be combined with performance art and still be considered or referred to as a "film", for instance, when there is a live musical accompaniment to a silent film. Anothe example is audience participation films, as at a midnight movies screening of The Rocky Horror Picture Show, where the audience dresses up on costme from the film and loudly does a kareoke-like reenacment along with the film. Performance art where film is incorporated as a componenet is usually not called film, but a film, which could stand-alone but is accompanied by a performance may still be referred to as a film.
Ad blocker interference detected!
Wikia is a free-to-use site that makes money from advertising. We have a modified experience for viewers using ad blockers

Wikia is not accessible if you've made further modifications. Remove the custom ad blocker rule(s) and the page will load as expected.