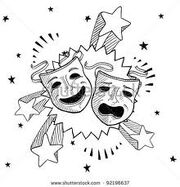 Acting
is the work of an actor or actress, which is a person in theatre, television, film, or any other storytelling medium who tells the story by portraying a character and, usually, speaking or singing the written text or play.
Most early sources in the West that examine the art of acting (Greek: ὑπόκρισις, hypokrisis) discuss it as part of rhetoric.
Ad blocker interference detected!
Wikia is a free-to-use site that makes money from advertising. We have a modified experience for viewers using ad blockers

Wikia is not accessible if you've made further modifications. Remove the custom ad blocker rule(s) and the page will load as expected.